As an illegitimate fishing guide on the waters of south west Florida, Shamus Pickford rarely gets a day off to enjoy the sport he's done his entire life, but when he does, he calls on his old friend Klinger Nowel to accompany him. All the stars have aligned to make this trip happen. The tides were checked and the weather was noted, all were a go. The two set off at the break of dawn in hopes of catching that one big one, but when they spot a precarious plane flying over Charlotte Harbor, Klinger's contagious enthusiasm and curiosity gets the best of them, a decision they will soon regret.
http://www.amazon.com/Stilt-House-Shamus-Pickford-story-ebook/dp/B015BONW2C
https://www.goodreads.com/author/show/13459702.D_C_Waterman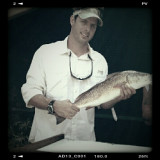 D.C. Waterman is a passionate outdoorsman with a fever for writing. Daily, he skims the shallow water of Charlotte Harbor on his skiff brain storming and researching his next story. When D.C.'s not exploring his next story, you'll find he's quite the companion for adventure.
I was pleasantly surprised with the twists in this book. Although my fishing knowledge is lacking. I picked it based on my curious side, and books descriptive nature. Shamus
was
in South Florida
enjoying a day off with his friend
Klinger. They start talking about
fishing rods, and different sorts of fish, it's
foreign to me. I do feel excitement when he describes crashing waves on the boat,
the water and
beautiful scenery. This begins as a simple fishing story rod, bait, boat and all. Little did I expect they would be in the middle of a drug drop and a plan gone haywire. Shamus and Klinger should have minded their own business. Instead prying eyes
lead to Klinger getting kidnapped. Lester and Eliot get involved in a plot to make some fast cash. When a bad deal gets even worse, there are no winners. Shamus and Klinger realize the simple things in life can't be taken for granted. The story had a nice pace with unexpected twists and turns. I was not expecting
a
surprise ending. I give this book three stars. I was pleasantly surprised for a book
I picked on a whim. I understand how these events could be real. I know a people personally,
who have been in the wrong place at the wrong time. I received this book in exchange for an honest review. I rate this book 3 out of 5 stars.
You may purchase this book on your kindle app.