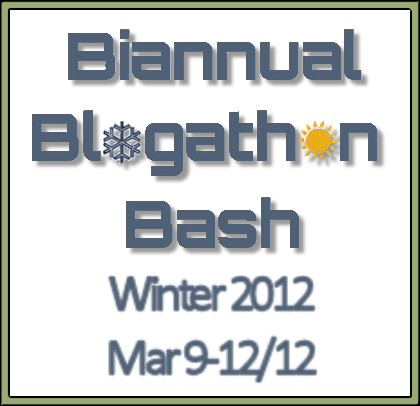 Today is the kick off for the
Biannual Blogathon Bash
! What is it you may ask? It's like a Scrapathon but blog related. It is a 72 hr blogathon where we are to work on our blog and anything that is related to our blog.
The
Biannual Blogathon Bash
will run from this morning until Monday morning. I wont be able to spend the whole 72 hours blogging as I worked this morning, and I am home with the kids. I do plan to spend sometime tonight, and time in the morning and evening of both Saturday and Sunday.
My goals
Update pages for both blogs
Advertise giveaways on giveaway sites
Finish a couple reviews and posts
Work on some baking and cooking during the day - yes this is blog related for Marvelous Mommy Meals come check out some great recipes
There are some really great prizes available also. Want to take part in the
Biannual Blogathon Bash
; there is still time to sign up!

~*Disclaimer: This post was written by Canadian Coupon Mom. This is not a sponsored post. All opinions are honest and my own.*~